Toodledo Mobile Apps
For the best experience on your iPhone or Android phone, we recommend downloading our newest Next Generation mobile apps.
Our Next Generation mobile apps are available! (

Download here!

)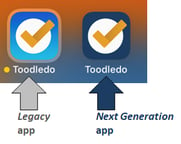 As we are building our new mobile apps, we are iterating quickly on new releases with new features, fixes, and responses to user requests.
To do this in the most responsive manner, we have not yet released the latest iOS app yet directly in the App Store. Instead, we are currently providing access via Apple TestFlight. This allows users to provide quick feedback and optionally choose to include screenshots and error reports.
Correspondingly, Android users can access the Next Generation version of the Toodledo app by installing the app named "Toodledo (Next Gen Preview)".
These versions have been well received by the Toodledo user community and there have been no instances of catastrophic data loss with our Next Generation mobile apps.
We encourage all users to install the Next Generation versions.
Install the Toodledo Next Gen App on iPhone or iPad (iOS)
1. On your iPhone or iPad, open this link: https://testflight.apple.com/join/OTkRmQMb
(Have TestFlight open, but don't see Toodledo? If you already previously installed TestFlight , you don't need to redeem an Invitation Code -- you can access the Next Gen installation in TestFlight by clicking here. If you get a pop-up "Safari cannot open the page because the address is invalid", it's because you haven't installed TestFlight.).
2. To make sure you get the latest updates as we push them out, make sure to turn on Automatic Updates:
- Open TestFlight and go to the entry for the Toodledo Next Gen app.
- Under App Information, turn Automatic Updates On.
Make sure you open the Next Gen app (with the dark blue icon)!



Install the Toodledo Next Gen App on Android
On your Android phone, to access the Next Gen Android app, please install from the listing for Toodledo (Next Gen Preview) in the Google Play store.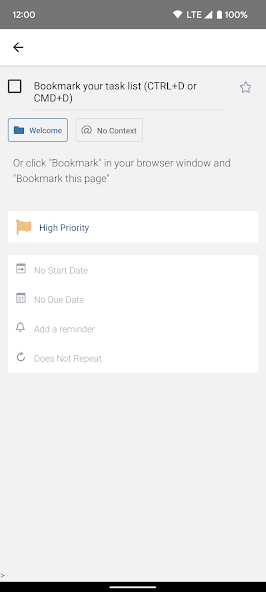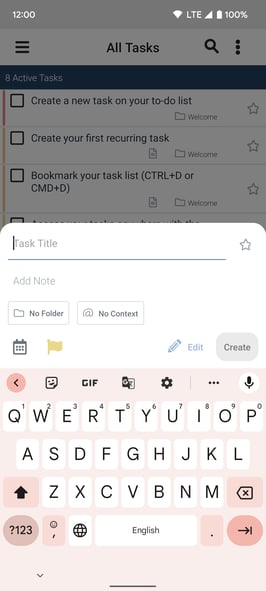 Our Features
Why Choose the new app?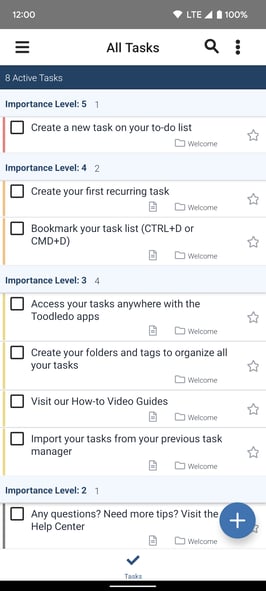 Modern Experience
Our new mobile apps align to modern iOS and Android conventions.
Access from anywhere on your phone
We have developed the new iOS and Android versions from the ground up.
Immediate Sync
Data entered in the mobile app is synced in nearly real-time to the cloud.
Safe & Confidential
Your data is synced with the cloud and available when you log in to the desktop version.
At this point, we are confident in sharing this newer app is definitely stable and works well at production quality. No users have experienced any catastrophic data loss.
We strongly encourage all users who are still using the Legacy apps (those apps that have been around for years) to migrate to the Next Generation apps as their default for day-to-day usage.
If desired, you can safely keep both the Legacy and the Next Generation apps installed on your phone and use them side by side in the same way that you might use a mobile app and a website side by side.
That being said, we recognize that not all features in the Legacy apps are in the Next Generation apps – and for some users, key pieces are still missing. If you're one of those users, please let us know what those particular capabilities are (we have our own lists of items we know are missing, but we would love to see if we are missing anything).
Feel free to grab a backup of your data.
We intend to be more active on our social channels too. If you haven't subscribed and liked our LinkedIn Page, Instagram, Twitter, and Facebook page, please consider doing so!
Your feedback, if positive or negative, is always welcome and highly appreciated!
We also encourage our community to read, post questions, or just hang out in our forums.
Looking forward to interacting with as many members of the community as possible!
Which app are you using? If you don't have an app icon that looks like the dark blue one on the right below, you should install the Next Generation Toodledo app!